Opening day calendar
The Current month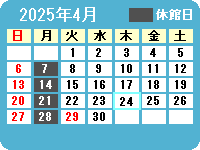 Next month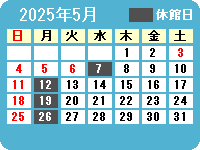 Month after next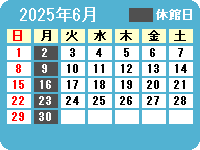 Opening hours
March to October
9:30-17:00 (Entrance closed at 16:30)
November to February
November to February / 9:30-16:30 (Entrance closed at 16:00)
Closed
Mondays and December 28 to January 4
When a holiday falls on Monday, the museum opens on Monday and closes on the following day (Tuesday)
Admission Fee
Exhibition Rooms
(Main Building)
Natural History of Osaka
(Information Center)
Adult
300yen
Free
※Extra fee required
for Special Exhibition
Student
200yen
Child under age 15
Free
Discounted Tickets for Groups (30 or more)
Know Before You Go
Restaurant
Located on the 1st floor in Flower, Greenery and Nature Information Center.
Lockers
Visitors can use for free. It needs a 100 yen coin, but it will be returned after using.
Left-luggage office
We receive large luggage. Please ask staff nearby.
Elevator
Permanent exhibitions and special exhibitions are accessible by elevator in the museum.
Restrooms
Every restroom is equipped with a diaper a changing table and barrier-free toilet.
Nursery room/
First Aid room
Please ask staff nearby
Wheelchair/
Stroller
Please ask staff nearby
Magnifying glass/ Reading glasses
We lend only for use inside of the building. Please ask staff nearby.
Assistance dog for persons with disabilities
Visitors can bring guide dog, hearing dog, and service dog. Pets are not allowed.
※Smoking is prohibited except for the designated areas.
※As a rule, everyone is free to take photos for private use and non-commercial purpose.